From left to right/top to bottom: MAC LE Xmas 2005 palette - 'Trend', MAC paint in 'Magrittes', NP sparkle dust #10, NP Loose dust #29, Urban Decay shadow in 'mildew', Too Faced Eyeshadow Duo in 'Party Girl', Too Faced duo in 'I know what boys want', Becca Jewel dust in 'Asrai', Becca Jewel dust in 'Aspara', NP loose dust #9, MAC shadow 'Pink Venus', Too Faced duo 'Skinny Dip', Too Faced duo 'Mommy dearest'.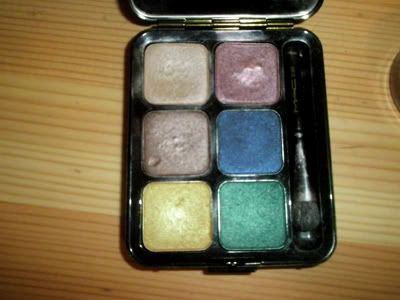 Close up of Trend palette to give you an idea of use. Basically its barely been used at all (those lighter patches are not the pan showing through - its just the uneven level of shadow). Brush included. Actual casing has some very small white marks in the lower right hand corner but otherwise it is good as new. No Box.

I'd like $35 USD for this, which seems to be just below the going rate on ebay. If this seems unreasonable let me know.

Here are some swatches of the other shadows: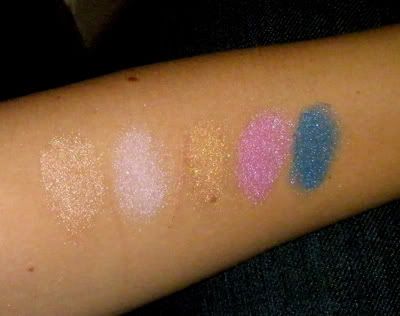 Becca Aspara, Becca Asrai, and the three NP dusts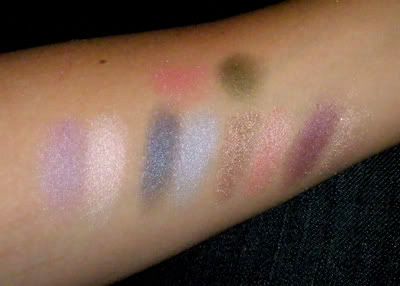 Pink Venus, Mildew, and each of the Too Faced Duos (in pairs) respectively Mommy Dearest, Skinny Dip, I know what boys want and Party Girl.

Price List and % use

MAC paint 'Magrittes' - Around 70% left - asking $8 US
NP dust (pink) - Around 85% left - $10 US
NP dust (blue) - 95% full - $12 US
NP dust (gold) - 90% full - $11 US
MAC pink venus - 90% - $8 US
Becca 'Asrai' - New - $13 US
Becca 'Aspara' - New - $13 US
Urban Decay 'Mildew' - New - $6 US
Too Faced 'I know what boys want' - New (boxed) - $9 US
Too Faced 'Mommy dearest' - New (boxed) - $9 US
Too Faced 'Skinny Dip' - New (boxed) - $9 US
Too Faced 'Party Girl' - 90% (boxed) - $8 US

TAKE ALL THE SHADOWS (not including the Trend palette) for $99 US!

My info:

I live in Australia, so yes shipping will be a little higher to anywhere outside of Aust. However, since these are small items I don't imagine shipping will exceed around $10 US. Exact quote will be given once you commit to buy (I have to go down to the post office and get stuff weighed, etc).

I accept all flavors of paypal excluding credit unless you are happy to pay the fee. E-cheques are fine, but the makeup will not be sent until the cheque clears.

Feedback is on ebay under the username 'boxichoose' (I have feedback as both a seller and a buyer). I also have feedback floating around on one of the BPAL communities under the username 'serraasuka'.

I have a few freebies to throw into packages, too - some perfume samples (lolita lempicka, champagne snow showers solid perfume by LUSH, pink rockin' fever by sunshinescents.com), a mini lipgloss (clinique) and an eyeshadow (a teal/aqua shade by a company called 'Bloom' - its very nice!). If I run out of samples to throw in I may includes some BPAL imps as bonuses, too

Happy shopping, kids!